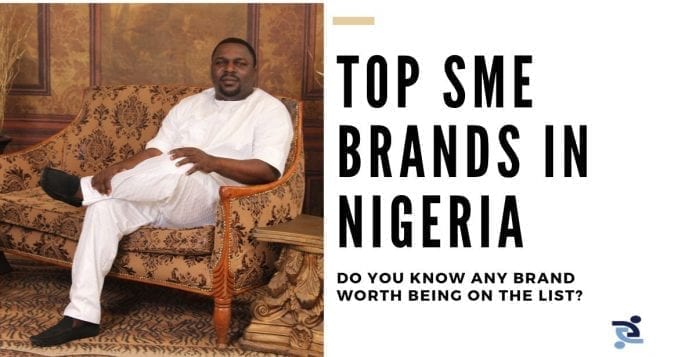 Nigeria is blessed with many entrepreneurs operating in the SME sector. With the many factors militating against entrepreneurship, there are some Nigerians that have braved it against all odds and are very successful today. They are considered Leading Small And Medium Size Enterprise (SME) Brands In Nigeria.
We have compiled a list of some of these Nigerians that have made names for themselves with the hope that Nigerians like yourself can learn a thing or two from these entrepreneurs who have found ways to excel above all odds.
Suggested reading: 5 development strategies for small businesses
Events Planning Business
A. Eventful Nigeria Ltd
Website: http://www.eventfulnigeria.com/
Eventful Nigeria Ltd was established in 2002 by Yewande Zacchaeus. Yewande is a Lawyer, Banker, and Entrepreneur. She started Eventful Nigeria Limited after a successful banking career. She retired from banking from Ecobank Nigeria Plc.
She had a degree in Law from the University of Lagos and a Master's degree from Cambridge University. She also attended an Advanced Management Program at
IESE Business School, Barcelona.
Yewande is the pioneer in the event planning industry in Nigeria. She is an active member of the Women in Management and Business and Public Service – (WIMBIZ) and a mentor to many female professionals.
B. Zapphaire Events
Website: http://zapphaireevents.com/
Funke Bucknor Obruthe is the founder of Zapphaire Events. She is a Lawyer and Entrepreneur. She graduated from the University of Lagos. She worked briefly in an advertising agency before she founded Zapphaire Events in 2003.
She is the author of the popular book: The Essential Bridal Handbook. She has earned several awards and recognitions including being listed in BBC's 100 Women series.
Zapphaire Events has planned one-of-a-kind events in Nigeria and they are known for their excellence in event planning. Funke is an active member of the Women in Management and Business and Public Service (WIMBIZ) and a mentor to many professionals.
Beauty and Make-Up Business
A. House of Tara International
Website: https://corporate.houseoftara.com/
The House of Tara International was established in 1998 by Tara Fela-Durotoye. Tara is a Lawyer and Beauty Entrepreneur. She is the pioneer in the bridal makeup profession in Nigeria. She created the Tara Orekelewa Beauty Products, Inspired Perfume and H.I.P Beauty range.
She launched the first bridal directory in 1999, set up international standard makeup studios and established the first makeup school in Nigeria.
Tara graduated from Lagos State University and has attended many business-related programs in top business schools. Tara is an active member of WIMBIZ.
B. BM Pro Make-Up
Website: https://bmpromakeup.com/
Banke Meshida Lawal is the founder of BM Pro Make-Up. Banke is a makeup artist and businesswoman. She is a graduate of the University of Lagos, where she studied English. Banke is known for her many awards and achievements in the Nigerian Makeup Industry. BM Pro Make Up is popular among celebrities and executives, including the former first lady of Nigeria, Dame Patience Jonathan.
Banke's journey started back in her university days, she has since perfected her skills and trade to become the brand that she is today.
Her brand BMPro is a multi-sectorial business, owning a makeup line of over 40 products, a training school, a beauty advisory and, an online magazine, BM| Pro.
Fashion Design Business
A. Mai Atafo
Website: www.maiatafo.com
Ohimai Atafo started Mai Atafo in 2009. He is a fashion entrepreneur and founder of the label: Mai Atafo. Ohimai had a successful career in the corporate world as a brand strategist with British American Tobacco and Guinness Nigeria Plc, before venturing into the fashion business.
He studied at a Savile Row Academy in Leeds before he started his bespoke tailoring and bridal atelier business. When you think of bespoke tailoring in Nigeria, Mai Atafo is the name that comes to mind. In Africa, Mai Atafo's Tuxedos are possibly the best.
"For the love of the craft Mai Atafo finds time to be an incredible MC/Compere and voiceover artiste having done shows like 2010 Miss Nigeria Pageant alongside Agbani Darego, City People Fashion and Style Award, Face of Sleek Model Competition, Etisalat Masterbrand Re-launch, FCMB Employees Award Night and voiced a Glo advert and Soundcity Video Music Awards live-show.
In his not so spare time he still manages to inspire with is free fashion mentorship initiative called Fashion Conversations.
Mai Atafo is married to Ede-Christine and blessed with a daughter, Aima." – Mai Atafo
B. Deola Sagoe
Website: www.deolasagoe.co
Ms Deola Ade-Ojo is a Nigerian born fashion designer who is popularly known by her design name, Deola Sagoe. Deola Ade-Ojo expanded her mother's fashion business to become an international label known as Deola Sagoe. She began designing in 1988 when she joined her mother's business with a view of expanding the label's repertoire to encompass more contemporary designs for the ever-developing, cosmopolitan high-brow society.
Deola Sagoe has long taken her fashion adventure to the international stage with many awards and trailblazing designs under her name. She holds a master's degree in Finance and Management. She studied at the University of Lagos and University of Miami. Deola Sagoe is an African owned fashion business that competes well on the global stage.
Other premium fashion designers are:
Photography
A. TY BELLO
Website: www.tybello.com
Founder: Toyin Bello
Toyin Bello popularly called Ty Bello studied Economics at the University of Lagos; She came to public attention in the early 2000s as a member of the music group Kush.
Toyin is a celebrity photographer, who is known for her excellent images. She is one of Nigeria's most recognized artists. She has also built a reputation as one of Nigeria's foremost photographers and is a member of the talented photography collective Depth of Field.
She was the official photographer to the former president, Goodluck Ebele Jonathan. She is also the official photographer for Thisday Fashion Magazine. There is a supposed satisfaction that comes by having a photo-shoot by TY Bello to mark a memorable day or event.
B. Kelechi Amadi Obi
Website: http://www.kelechiamadiobi.com/
Kelechi Amadi Obi is an artist, a lawyer, and a photographer. He was called to bar in 1993. He is a known celebrity photographer and also popular for his several works with corporate organizations like MTN, British American Tobacco, Guinness Nigeria Plc, PZ Nigeria Plc, The Ford Foundation, and others.
Kelechi's works have been featured in exhibitions internationally. Kelechi Amadi Obi has his signature on many celebrity and corporate photographs.
Other successful photographers in Nigeria include:
Obi Somto
Adeola Olagunju
Aisha Augie-Kuta
Jide Odukoya
Ade Adekola
Laundry Services
Garment Care Ltd
Website: http://www.garmentcareltd.com/
Garment care Limited was established in 1999 by Nana Otedola, wife of Nigerian billionaire, Femi Otedola. She lives in London and Nigeria. and is known for the partnership they have with hotels, restaurants, corporate businesses, and executives.
Garment Care cleaning is different, by employing a perfect blend of hand valeting and the most advanced and clothes-friendly techniques in fabric care, she is able to churn out clothes which look like brand new. With an unparalleled reputation of excellent quality service, Garment Care is preferred for her specialist service and attention to detail.
2. CleanAce Drycleaners
Website: http://cleanace.com.ng/
Eniibukun Adebayo started CleanAce dry-cleaning in 1991 and grew the business into a structured one. He once opened up in an interview that he started the laundry business right from his bedroom, alongside his wife.
Today, the brand has grown to include CleanAce academy, the very first dry cleaning academy in Nigeria. CleanAce Academy offers the best education in dry cleaning for both freshers and the experienced alike. It is targeted toward ensuring the acquisition of needed skills and professional standards in the dry cleaning and laundry industry.
Childcare Services
The Baby Lounge Ltd
Website: https://www.thebabylounge.com.ng/
Founder: Itoro Ugorji
Itoro Ugorji is a USA trained childcare expert. She holds a Master's degree in Early Childhood Education. Her business provides childcare consultancy and crèche services to corporate organizations and individuals.
They run convenient and flexible childcare services for children age 3months to 10 years in the form of daycare and afterschool services. The business opens every day including weekends, public holidays and during festive periods. The business also provides outdoor childcare services at events.
Leabridge Crèche and Preparatory School
Website: www.theleabridge.com
Deola Olowolafe had worked for many years in the financial services sector before starting the crèche. She holds a diploma in childcare services and a Master's degree in Early Childhood Education.
Almost every school has a crèche section. However, some stand out because of their time flexibility and excellence.
FOOD BUSINESS
Nuli Foods
Website: https://www.nulilounge.com/
Founder: Ada Osakwe
Ada Osakwe is a Nigerian economist, entrepreneur, and corporate executive. She is the founder of Nuli foods, a brand known for its quality and attention to sourcing fresh farm food items.
Ada is also the founder and chief executive officer of Agrolay Ventures, an agribusiness investment company based in Nigeria, which invests in African agricultural food-related companies. Nuli Foods focuses on ready-to-eat traditional African meals.
Veritas Caterers Ltd
Website: www.theveritasgroup.com.ng
Veronica Odoemenam` started Veritas Caterers Ltd in 2015. The company is known for its well-cooked healthy food. She is strategically positioned as a leading brand in the hospitality and catering services sector, with core competencies in Corporate and Social Events Catering, Corporate Canteen Management, Office and Home Meals Delivery.
Her customers are more of the elite class that values healthy food. Veritas food is also served in corporate offices.
Other food vendors include:
Tastebudz (https://www.tastebudz.net/)
Naija Butcher (http://naijabutcher.com/)
Yum2yum (yum2yum.ng)
The sharkexpress
Ocean Basket
Dooney's Kitchen
Cactus
Johnny Rockets
Terra Kulture
Career Coach
A. Olusola Lanre Coaching Academy (OLCA)
Website: https://www.olcang.com/
OLCA partners with the top UK certifying organizations in training executives, coaches, psychologists and professionals that want to reach the top in their careers. OLCA also known as the Catalyst, has trained notable Nigerian executives and business people including Mosunmola Abudu (Mo Abudu). OLCA has worked across East, West and Central Africa.
B. TriciaBiz
Website: https://www.triciabiz.com
Founder: Tricia Iponmwomba
Tricia is a social media influencer who helps small business owners to structure and market their businesses. Tricia coaches entrepreneurs by helping them develop business and sales strategies that work. Tricia had worked with about thirteen multinational companies before she started her consulting business.
Health and Wellness
A. ASKDAMZ
Website: https://askcoachdamz.com/
Founder: Adedamola Ladejobi
Adedamola Ladejobi is a Barrister and a certified nutritionist. Her health and wellness company is known for helping people attain their desired body goals. Askdamz, as she is popularly addressed, is a social media influencer and a public speaker.
According to WomenAfrica, Ask Damz struggled badly with symptoms from Gastroesophageal reflux disease (GERD) which motivated her to the wellness journey.
She is married with two kids.
B. Adura O Fitness and Wellness
Website: http://adura-o.com/
Founder: Adura Odesanya
Adura is United Kingdom trained Electrical and Electronics Engineer. She worked as an in the UK for about eight years before starting her health and wellness business. Adura is a public speaker and wellness influencer who was featured on Ebonylife TV and Africa Magic.
Others in the industry are:
Suzanne Brume, Fitness Blogging Dynamo
Esta Morenikeji, Fat-to-Fit Motivator
Ejiro "EJ" Ogenyi, Lifestyle Coach Extraordinaire
Ada-Ari Agbim, YouTube Trainer
Orjiugo Oguguo, Global Fitness Advocate
Anowa Adjah, The Nigerian Powerhouse
Tayo Lekan-Agbaje, Fitness Addict
Trisha Maja, Zumba Pioneer
Interior Decoration
A. Business Name: Midas Interiors Limited
Website: https://midasinteriorsltd.com/
Founder: Mabel Makun
Mabel Makun has over 15 years of experience in her craft. Midas Interiors Limited is known for its exquisite designs. It serves homes and corporate offices.
B. Spazio Ideale
Website: www.spazioideale.com
The business is managed by a team of 5 vibrant ladies: Omotola Hunkuten, Overcomer Umukoro, Tomi Olatunbode, Funmi Siyanbola, and Temilola Oyenuga.
Other Interior design companies that are thriving in Nigeria are:
– Homafez Interior Design
– Spring Interiors
– Viva Bella Designs
– Out of Africa Lifestyle
– Gemona West Interior Design
– Do II Ltd
– Blue Mahogany Ltd
– CC Interior Design
– iDesign
COBBLERS
A. The Grand Cobbler
Website: https://thegrandcobbler.com/
The Grand Cobbler is a reliable cobbler. This cobbler works on luxury brand items and leather valuables. She runs two offices in Lagos: Lekki and Osapa.
B. The Lady Cobbler and Company Ltd
Website: http://www.theladycobbler.com/welcome.html
The Lady Cobbler and Company Ltd specialize in men, women, and children shoe repair. Not only do they repair shoes, but they also produce good handmade personal effects.
Other cobblers and Shoe Makers are:
-City Cobbler
-Dr Kicks Shoe Spa
-Fori Fori
Blogging
Linda Ikeji blog was started by Linda Ikeji. She is known as the queen of blogging in Africa because of the wealth that blogging has brought her way. She also owns the online Linda Ikeji TV (LITV).
This is a successful blog run by a Nigerian journalist who lives in Germany. Many Africans, especially Nigerians get gossip feeds from this blog on a regular basis.
Other notable Nigerian bloggers are: Kemi Omololu-Olunloyo and Kemi Filani